So we've been living in the RV for nearly 9 weeks now, and it still just feels like a regular road trip. Maybe that's why I haven't been diligent about posting about our whereabouts…nah, I've just been lazy. That being said I have finished a knitting project, 2.5 books, done way more loads of laundry than 2 adults and 1 dog should have produced in 9 weeks, etc. Speaking of household chores, living in the RV seems to create more housework than previous road trips in the RV, but I'm not sure why. I don't think I am cooking any more than prior road trips, and we're not spending our RV time much differently than prior travels. It's a mystery to me.
In any case, here's what we've been doing…
After a quick trip to Wisconsin to pass along some items to family members,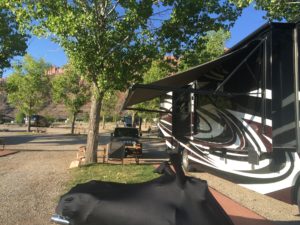 we drove straight to Moab, UT for a meet-up with fellow family travelers. We've been to Moab before, and it did not disappoint. The weather was hot, but not humid (It's a dry heat!?), and it was not too crowded, which is always a bonus for an introvert like me. 🙂 Arches National Park is always evolving and while some arches collapse or get bigger, new windows and arches are forming in other areas. Some of the trails to the arches are a bit primitive, so cairns, which look like little rock towers, help mark the correct path.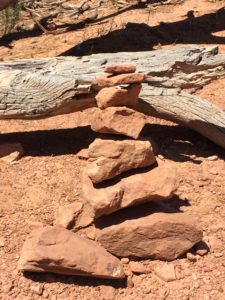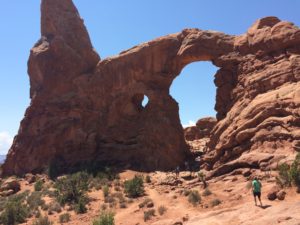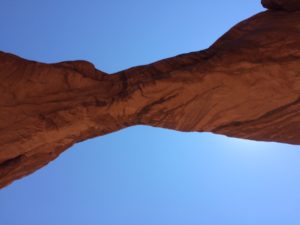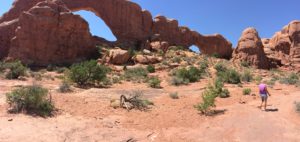 From Moab, we drove to Cortez, CO, where Sophie loved the KOA campground, conveniently adjacent to the city dog park! The local dogs and their owners were very welcoming. We visited Mesa Verde National Park and the Anasazi Heritage Center to check out the Pueblo ruins. We chose self-guided trails, but Mesa Verde National Park does offer guided tours that allow you to walk (and climb) in a cliff dwelling. Our hiking in the national park was cut a bit short by intermittent hail and thunderstorms in the area.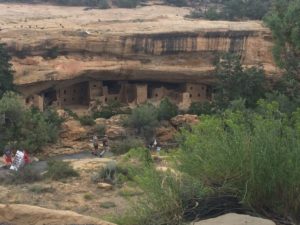 We had a nice hike outside the Anasazi Heritage Center, and Sophie was allowed on the trail, too!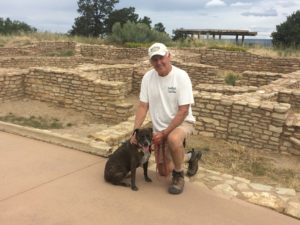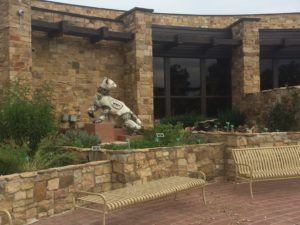 Well, that's enough typing for today…
Thanks for checking in!