Hello Friends and Family!
Thought you might be sick of me getting caught up on earlier travels, so here is an actual post of our current travels! (I can't tell you how many times I am gently reminded that I should be keeping all y'all up-to-date.) I will say the Montana wi-fi has been pretty spotty up until now, so I am taking advantage of the current wi-fi situation with multiple postings this week.
First of all, we have finally made it to Glacier National Park! (We had planned to visit a couple of different times in the past few years, but life happened…) And it is spectacular!
We took a Sunday drive along Going-to-the-Sun Road. Sophie was able to come along, since we were not hiking. No dogs allowed on the trails — only along roadways and in campground areas. There are waterfalls everywhere!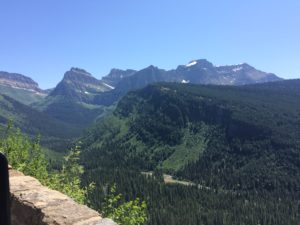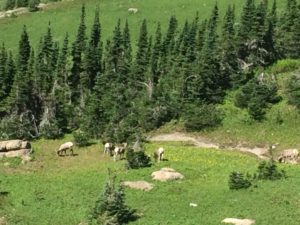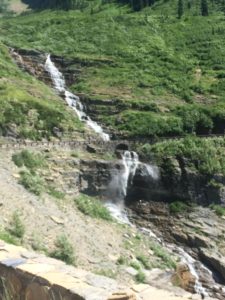 With over 700 miles of hiking trails, GNP has a lot of options. We don't like to keep Sophie crated or alone for too long, so we chose a day hike closer to West Glacier — the McDonald Creek trail. This was a really nice hike with pretty views and not too many elevation changes (Better for Ronnie's knees!) We chose not to buy bear spray, but the further along the trail we went, the more evidence (fur balls and a really nice paw print) of bear activity we saw. We were sure to periodically make some noise, just in case. We had very little company along the trail, and we had the cascades at the end all to ourselves. Roundtrip hike — about 5.5 miles. Perfect weather. No attack bears. And we made it back to the RV by our target ETA. Life can't get much better than this.